Interview
Bryan Black
Introduction:
Bryan Black aka Black Asteroid, formerly member of Motor
We sit here at Ruby's, an Italian restaurant, with Bryan Black, just before he will play at Arena Club. This is a small interview for NovaFuture Blog.
Interview:
hello, Bryan. The first thing I want to ask for is to introduce yourself a bit, please …
Hello, this is Bryan Black from Black Asteroid. I came to Berlin this week to play at the Arena Club for CLR's Disturbance party, the new party on every Thursday, and to see Depeche Mode who played last night in Berlin.
(Official video for Black Asteroid's "Engine 1", taken from "The Engine EP", CLR 2011)
You are not just Black Asteroid, but also part of the duo MOTOR. Motor released on Mute's techno imprint novamute, Shitkatapult and CLRX, a sublabel of CLR. Black Asteroid is signed to Chris Liebing's CLR and Electric Deluxe from Speedy J. One of the upcoming records will be a co-operation with David Meiser on Nachtstrom Schallplatten. How do you select the labels for your releases?
My first EP was on CLR. It usually depends on the material. If it is more DJ stuff like "techno techno" I send it to Chris Liebing and if it is more experimental and avantgarde or something like this, Electric Deluxe might be the better home. I have been doing remixes for other artists on different labels. So I discovered Nachtstrom Schallplatten and Sienna Obscure, all these labels through remixes that I get asked to do, which are all doing great underground techno, but at the moment my main focus is on CLR and Electric Deluxe.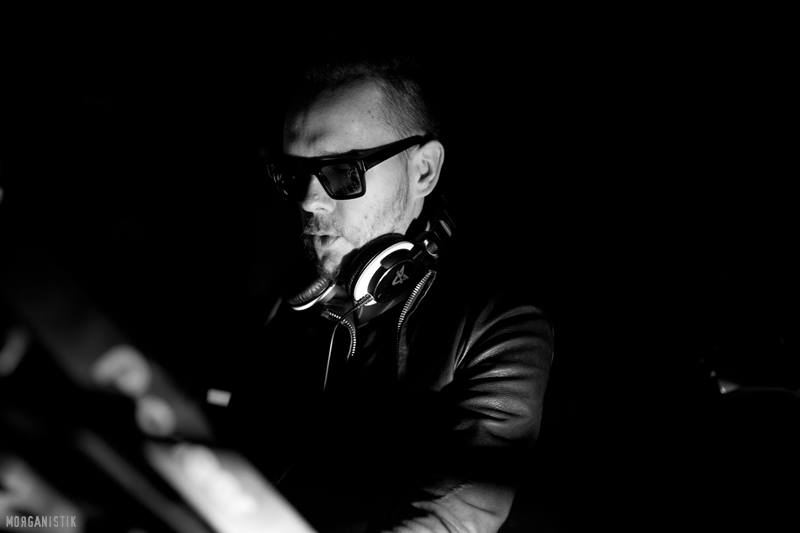 (Black Asteroid at Disturbance #8, 2013 – photo by Morganistik)
I already mentioned that you're part of MOTOR. In my eyes the latest MOTOR album "Man Made Machine" has a more pop attitude than the ones before. Your techno stuff is now released as Black Asteroid, the poppier stuff as MOTOR. Is that just an impression of the moment or something you planned and want to continue?
It was an accident. When MOTOR was on tour with Depeche Mode, we got inspired, we were writing an album at that time, and we started thinking "let's have Martin sing on one song.". So we did a song with Martin. And from there we made the choice to experiment more with vocals because we already made 3 records up to that. The first one was techno, they are all techno but the sound was changing very time. We felt like we accomplished what we wanted to with these hardcore sounds, so we thought we would like to try something different for the new album. I am not sure why but it was not really planned to have vocalists but it just happened naturally. We toured with Gary Numan, we toured with Depeche Mode, so we met these people and we did songs together. It felt like the right idea to put it on an album.
(Official video of MOTOR's "Man Made Machine", taken from "Man Made Machine", CLRX 2012)
That was my next question: how did you select the vocalists for the album, what was the idea behind?
It's usually friends or people we're hanging out with, people we know via friends. We don't invite people we don't know.
We already mentioned Martin Gore from Depeche Mode. You joined their concert last night. How did you like it?
It was the 3rd time I saw this tour and it was probably my favourite show. I have seen them in the last few tours. I think this tour is one of the best of the last tours the visuals etc.
It seems that you have a very close relationship with Martin Gore. How did it come to this situation and to the projects you did together like remixing, singing on your records and all the stuff like that?
Martin was getting the MOTOR records from Mute because he djs techno. So he already had listened to MOTOR records. I think he probably asked Mute to get us for a remix, a MOTOR remix for Depeche Mode. It was actually Douglas McCarthy from Nitzer Ebb who introduced us.
(unreleased MOTOR remix for Depeche Mode's "Precious", Mute 2005)
You also have a great passion for fashion and designers like Rick Owens and Boris Bidjan Saberi How did you make your music world collide with some fashion things?
It was just the best way to get free clothes, things I cannot afford lol I discovered a lot of designers some were already using my music for catwalk. I was watching youtube and came across a Rick Owens' show where he used my song for catwalk. So I wrote his press person and he replied to me so we became friends. I am not sure why but I have a lot of friends down in the fashion. I think music and fashion is connected. But not a lot of people can connect fashion and techno but I think dark music and dark clothings or whatever can go together. It's always fun clubbing together with designers.
(Official video for Black Asteroid's "Black Acid", taken from "Black Acid", Electric Deluxe 2012)
Any secret plans to do something with fashion?
Yeah, well for my debut album of Black Asteroid. I collaborate with Rick Owens. So I am working on it right now. I am not sure but it gonna be a product or a cover design or whatever. I wana collaborate with him on that. I always had the dream of making clothes but don't have the time now. Maybe I can find someone who let me do a collaboration with them.
Any other plans for the next time? You are recording an album now. Any MOTOR stuff?
Another CLR EP, vinyl is out this week (Remark: it's already out now it is "Grind EP".
Click here
). The next will be an EP on Electric Deluxe and a collaboration track with David Meiser (
Click here to check it out
). Everything is coming out in January/February. And of course I have a few remixes coming out. The idea is to have my album maybe released in the summer next year.
Anything with Martin Gore?
I don't know yet. I have not decided yet. I was just talking with Chris if I should keep it like the album is or if I should have some vocals. It's not decided yet.
Thank you very much for the interesting interview, Bryan.
so check out his
mixtape
of his influences he sent us in December.
Bryan Black was interviewed at Ruby's Bar near Schlesisches Tor on the 28th November by Jürgen Mayer for NovaFuture Blog with nice support by Nadia Morganistik, who also shot the nice photos (
click here to see gallery
). Transcript was written with the help of Mike.
Booking:
The Bullitt Agency for Black Asteroid
Websites:
Black Asteroid